Riverbend Family

Campground

Located in the heart of New Hampshire
Thank you for your interest in Riverbend Campground! A place to relax, unwind and enjoy the many beautiful attractions the area has to offer. If your stay involves active days and campfire nights, Riverbend is a great place to choose as your home base. Our family has recently purchased this beautiful campground and we appreciate your patience as we update and expand. Our goal is to create a unique and rustic camping experience for everyone to enjoy.
From tenting to "glamping" we welcome you all!




Conveniently located minutes from Lake Winnipesaukee. Enjoy hiking, biking & Kayaaking right from your campsite. The area offers everything from breweries, distilleries & creameries to theater productions & farmers markets. At the end of the day, relax & enjoy the mountain air by a crackling campfire. Call us today for site availability!
Large pull thru &
back-in sites
Large tent sites
that include
water & electric
Full Hook-ups with 30/50 amp service
Partial Hook-up Sites
(Electric & Water hook-ups)

$30 per night $200. per week
Inquire about longer stays on select sites.
Full Hook-up Sites
(Water~Electric~Sewer 20, 30 & 50 Amp service)
$45 per night $270 per week
$1050. Monthly (plus electric) $2600 Seasonal (plus electric)
All sites include a picnic table & fire pit or ring. Parking is provided for 1 vehicle on your site with additional parking nearby.
Parking is also available for boat or bike trailers at no additional cost.
Our fully stocked bathhouse is open 24/7 and is centrally located with free hot showers.
BASIC WIFI is provided throughout the park. Depending on location and guest usage you may experience interruptions.
If this happens, DO NOT PANIC! Power down, light a fire and enjoy natures un-interrupted wifi!!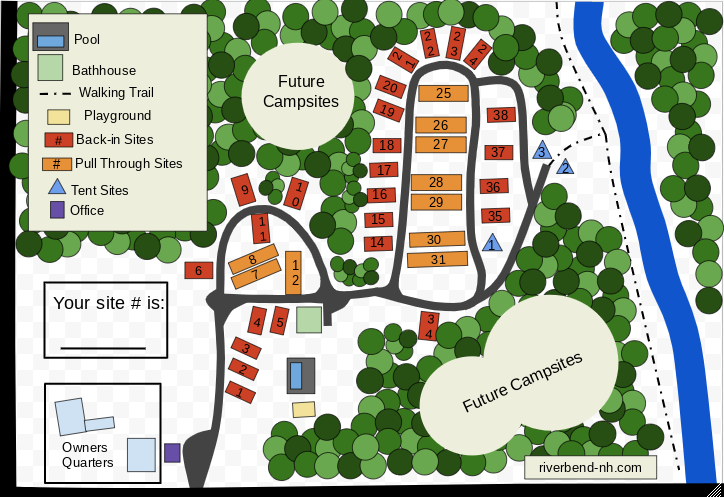 Safety
To ensure the safety of all our campground guests, Limit your speed to 5mph throughout the campground.
Keep an eye out for the little ones!

Visitors
There is no charge for visitors spending the day, however all visitors must check in at the office upon arrival. Guests who decide to spend the night will be charged a rate of $10. per person.
Children
Parents/guardians must be responsible for their children at all times. Children under 14 years of age are not allowed in the pool area or near the river without supervision.
Pets
We love our 4 legged family members, we have one of our own! Please keep your pet in control at all times, no excessive barking or running around off leash. A plastic bag dispenser is provided at the bath house to pick up after your pet when taking a walk.
Trash/Recycling
A dumpster is provided for camping and household trash ONLY! Absolutely no large items, electronics, grills carpets or furniture. Recycling bins will be provided for glass bottles, metal & aluminum cans & clean cardboard only. Tamworth DOES NOT recycle plastic bottles.
A dump pass is available upon request.
Quiet Hours
Please observe "quiet time" between the hours of 10pm-8am.
Keep fires small & noise levels low during these hours.
Please be respectful of your neighbors!
Refund Policy
We understand "things happen" so here's the fine print.
8 Days or more before date of arrival- FULL REFUND/CREDIT
Under 1 week- A discount on a future stay will be offered but no actual refunds will be given.
Absolutely no refunds due to weather, I mean come on...this is New England!
Call us today to reserve your site!
603-323-9133
OR send us an inquiry below and we will get back to you as soon as we can! You know the old saying...If at first you don't succeed....
(I'm most likely cleaning the bathhouse)